Internet Download Manager Build 9 full

download:

RapidShare: 1-Click Webhosting
-----------------------------------------------------------
أسترجع جميع ملفاتك المحذوفه حتى بعد الفورمات Recover My Files v3.9
من اقوى برامج استرجاع الملفات المحذوفه وحتى لو كان الهارد ديسك مفرمت سوف يسترجعها برنامج ممتاز وانصح به بشده
download:
RapidShare: 1-Click Webhosting
======================================== ========== ============
Registry Clean Expert 4.56
Registry Clean Expert scans the Windows registry and finds incorrect or obsolete information in the registry. By fixing these obsolete information in Windows registry, your system will run faster and error free. The backup/restore function of the tool let you backup your whole Windows Registry so you can use it to restore the registry to the current status in case you encounter some system failure. Besides above, the startup and BHO organizer feature let you manage your startup and IE BHO items with ease, and you can control the programs started with Windows and IE more handy with this feature!
download:
RapidShare: 1-Click Webhosting
-------------------------------------------------------
Vista Transformation 8.0.1
Features
Vista Transformation Pack will replace many of the resources in Windows XP/Windows Server 2003. It can change such things as:
* Boot screen
* Welcome Screen / Logon Screen
* New msstyles files (visual styles)
* New desktop and file icons
* New toolbar icons
* Progress Dialogs
* Sounds scheme
* System Tray icons
* New Wallpapers
* Windows Media Player Skins
* And much more
Changes in Version 8.0.1
-Fixed pre-configuration specifications to improve performance (Removed unstable applications from list)
-Fixed TrueTransparency's stability (some settings in skin causing input hook problems)
-Fixed Visualtooltip configuration when user accidently deletes the configuration files in there
-Removed backup files' status and put CPU model instead (obsolete checking)
-Updated system files' status report to "Out of sync" and repairing system files information
-Updated user account configuration system for more subtle performance
Changes in Version 8.0
-Added CPU Speed information in Welcome Center
-Added saving setup information file to save setup configuration for later uses with unattended transformation support
-Added installation background
-Added "System optimized" in Setup Configuration to configure the user account corresponding to machine's spec
-Added TrueTransparency 0.8.5 (Glass border with ported AeroStyle skin)
-Added WinFlip 0.42 (Vista 3DFlip)
-Fixed KB925902 hotfix issues with file processing animation
-Fixed Media Center program execution error
-Fixed rebuilding icon cache bug on non-current users during the processes
-Fixed Styler's installation checking bug (always set toolbar to styler mode when possible)
-Fixed failing to apply Vista screensaver
-Fixed program name in Add/Remove Programs
-Fixed subscribing Windows X's shrine to be default homepage bug in Welcome Center
-Fixed visualtooltip's advanced configuration bug
-Fixed WindowBlinds 6 skin installation compatibility
-Moved hotfix warning to user guide file to prevent confusion
-Re-arranged welcome dialog for richer information
-Replaced Extras in Welcome Center with Community link to forum
-Removed configuring user account's status report
-Removed obsolete dialogs (WindowBlinds warning, Before transformation, Donation, FAQ and Q&A)
-Removed Vista Live Messenger 8.1 skin
-Updated Setup Configuration in Welcome Center to cover on everything
-Updated setup transformation to pre-configure current user account before finishing the transformation
-Updated theming engine configuration
-Updated Vista Sidebar to version 2.3 Lite
-Updated Vista Sidebar user account configuration in Welcome Center
-Updated ViStart to build 2661
-Updated ViOrb to version 2.0
-Updated VisualTooltip to version 2.2
-Updated Welcome Center to pre-configure user account with system optimized option on the first run in that user account
DOWNLOAD:[27MB]
RapidShare: 1-Click Webhosting
--------------------------------------------------------------
Xilisoft Video Converter 3.1.48 build-1130b
Here you have a great program that will convert so many formats that will save you alot of time. Including Keygen.
Xilisoft Video Converter supports popular multimedia devices such as PSP, iPod, MP4 player, mobile phone, Zune, iPhone, BlackBerry etc. All conversion, such as AVI to MPEG, WMV to MPEG, WMV to AVI, are very easy and fast with the best quality.
| | |
| --- | --- |
| | تم تصغير هذه الصورة تلقائياً. اضغط هنا لمشاهدتها بالحجم الطبيعي. المقاس الاصلي للصورة هو 720x540 وحجمها هو 68KB. |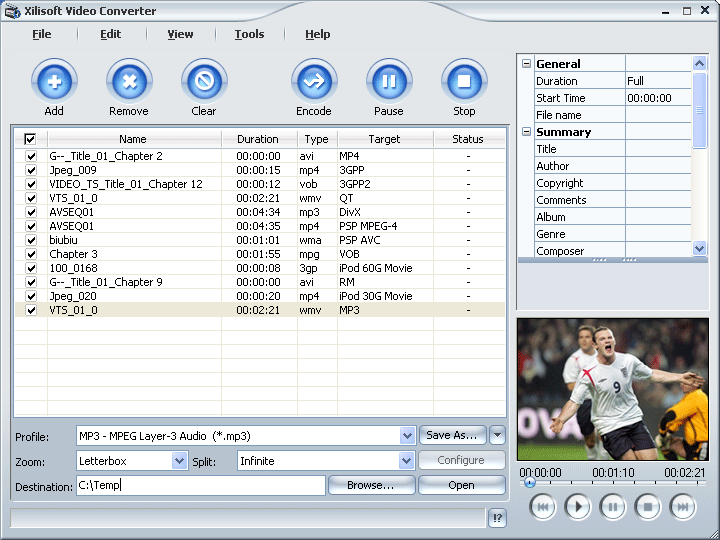 download:
RapidShare: 1-Click Webhosting
keygen:
RapidShare: 1-Click Webhosting